Bereavement Clearances
Bereavement clearance can be very hard when friend or relative passed away. We know that at such a difficult time, above all, you need a company you can trust and one that will provide a tactful and discreet service.
Being a close, family-run business, we can only begin to imagine how distressing it must be, having suffered a recent bereavement to then have to deal with the house clearance arrangements. Our staff are polite, quiet, well presented and professional. We hope to give peace mind and take away as much stress as we can at this painful time.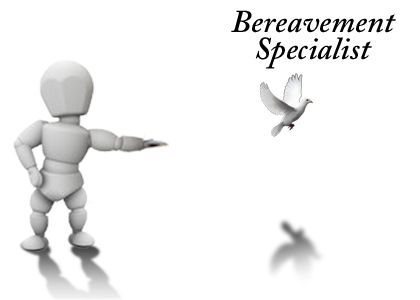 If you need to make house clearance arrangements following a bereavement, but live some distance from the house, we can arrange to collect the house keys from the probate administrator or estate agent dealing with the estate, both at the time of providing you with a quote, and again when we carry out the work.
Alternatively if you wish to and are able to be present whilst we clear the house, we very much like to talk to you about the person we are clearing the house after, and we always have time to listen. We are very sympathetic when our customers find the process of the house clearance upsetting. You will be treated with kindness and compassion though, and your loved ones effects will be removed from the house in a respectful and discreet way.

We remove all unwanted items including furniture white goods and general rubbish from the property. We can carry out house clearances for any size of property, even when the premises are extremely cluttered as the result of hoarding or illness.

Also our Clearance team will start at a time that is convenient for you and we do not stop until you are satisfied Each property is cleared from top to bottom: clothes, blankets, bric-a-brac, sheds, garages, carpets. We are able to make a storage area for items that the customers has specifically asked us to look out for or items we feel have monetary or sentimental value, such as photographs, important legal paper work or jewellery. We are a friendly and reliable team and we take a lot of pride in the personal service that we give to each of our customers.
Frequently Asked Questions
Q : Do you just remove everything, or can you sort it as well?
A : If you have specific items in mind, we can arrange for a separate area where these items will be placed for your perusal.
Q : How can you assist in minimising the distress that can be caused by removing a loved ones belongings?
A : To minimise any further distress, we can arrange to collect the keys from you and return them to you once we have finished.
Q : What happens to any valubles and furniture that are able to be sold?
A : If anything of any value is identified during the clearance, its value will be deducted from the overall cost of the removal.
Q : Is there anything that you wouldn't accept to remove?
A : Any dirty items that will be likely to contaminate the van or require it to be cleaned.
Q : What do you class as recycling?
A : If the item is worth money, then we will get an independent assessment of its value and this is passed back to you, if it isnt worth anything but it is still in good condition then we will take it to the local charity shop. If they don't want it then we will take it to the local recycling centre and dispose of it correctly.
Q : How do you calculate my costs?
A : Each quote is tailored to each individual customer and we base the price on your specific needs.
Q : Is your company registered to transport waste?
A : We are a registered waste carrier with the Enviroment Agency - Our license number is CB/WN5276WJ